Hexagonal boxesare made of heavy galvanized wire / ZnAl (Galfan) coated wire / PVC or PEcoated wires, the mesh shape is hexagonal, with the quality of high corrosionresistantance, high tensile strength. The gabion boxes are used widely in slopeprotection, foundation pit supporting, mountain rock holding, river and damsscour protection.

1.Material:Galvanizedwire, Galfan Coated wire, PVC coated Galvanized Steel wire. 
2. Weaving types:
normal twist,reverse twist, double twist.
3.Packaging:compressedand packed with pallets.
4. Feature:
Firm structure,Flat surface, Great corrosion resistant, Oxidation resistant, Durable, Highintensity.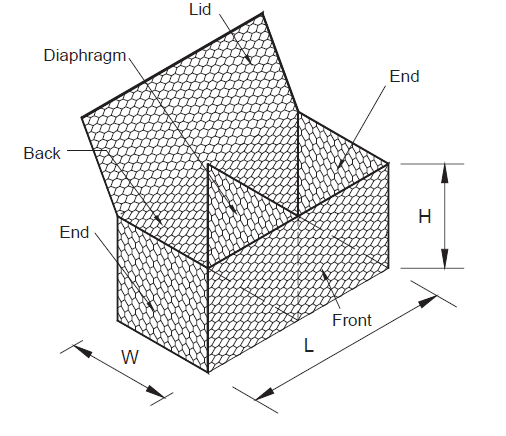 We follow themajor international standard in our manufacturing process.
ASTM 975Standards:
 Style 1  Galvanized wire as per ASTM A 641, class 3 soft temper
 Style 2  Same as style 1 with extra coating with PVC.
 Style 3  Zn-5Al or Zn-10Al coated wire as per ASTM A 856, also known as Galfanwire.
EN 10223-3Standard:
 Galvanized wire meets EN 10244-2 and old BS443
 Wire tensile strength is between 380N/mm2 and550N/mm2 as per BS 1052.
Our ToleranceStandard:
On the hexagonaldouble-twisted wire mesh, size of opening should not exceed +/-5% on thenominal dimension
Hexagonal MeshGabion Regular Sizes
Parameter

Finish Type

Galvanized

PVC Coated

Mesh

60x80mm,80x100mm & 100x120mm

60x80mm,80x100mm & 100x120mm

Mesh Wire

2.4/2.7/3.0mm

2.4/2.7/3.0mm

Selvage Wire

3.0/3.4/3.8mm

3.0/3.4/3.8mm

Binding Wire

2.2mm

2.2mm