Dog Kennel:
chain link dog run kennel cages are manufactured with 100% galvanized heavy duty steel frames and chain link wire mesh. The Dog Kennel roof helps pets stay cooler, drier, cleaner, healthier, and happier with this steel frame and poly tarp rain cover prepackaged in a box. All components needed for assembly and attachment to kennel, plus step by step instructions included.
Dog Kennel Size:
Size

6`H×10`L×5`W

Wire diameter: 2.3mm


Mesh size: 60x60mm


Frame tube size:

32 mm O.D.×0.8mm wall thickness


Surface treatment:

Hot-dip galvanized


Package: cartons

6`H×6`L×5`W

6`H×10`L×5`W

6`H×10`L×6`W

6`H×6`L×4`W

6`H×7.5`L×7.5`W

6`H×10`L×10`W

6`H×4`L×4`W

6`H×15`L×5`W

4`H×10`L×5`W

4`H×5`L×5`W

4`H×7.5`L×7.5`W

7`H×10`L×5`W

Customized is always welcome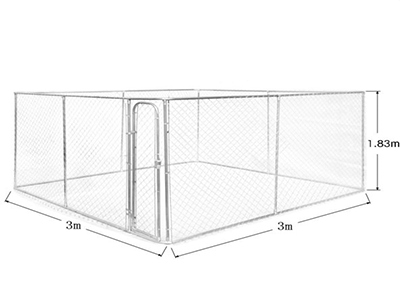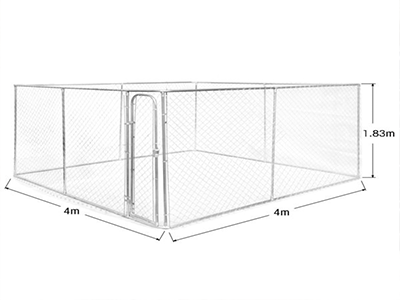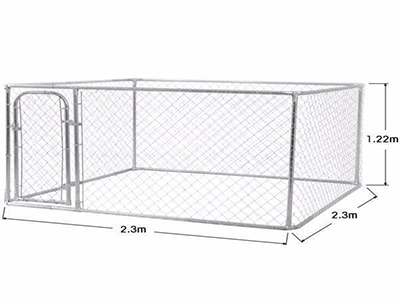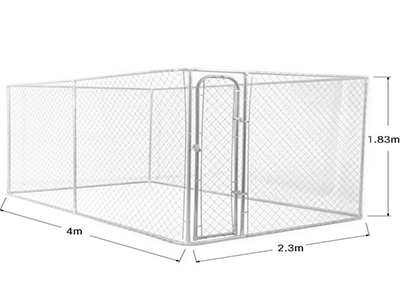 Advantages:
1.assemble easily and quickly, not need tools
2. are very popular in AU,NZ, USA etc markets
3.Galvanize quality is very good and can use long time
4. It is not heavy, and is easy to deliver and carry
Packaging: carton or carton + iron pallet. the carton with customer logo is available too.